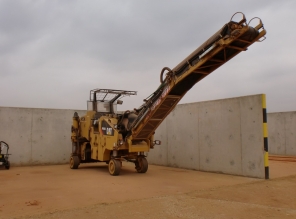 Asphalt Planers
"Caterpillar Planers"
CAT PM102
Cat® Cold Planers put the tons in the trucks hour after hour, shift after shift. Production is not just about horsepower. It's how the cold planer delivers the power to the rotor. Cat rotor drive systems are the most efficient and the best-protected in the industry. Cat load control provides the most responsive system, keeping engine speed close to peak torque at all times when the cutting gets tough.
Cat cutter bits last longer to boost uptime and ultimately production. Clean milled surfaces are left behind due to precise control of moldboard pressure.
FEATURES
Versatile and Easy to Use
Productive Rotor Options
Easy Service
Exclusive Quick Release Conical Tool Holder
Reliable Rotor Drive
Accessory Drive System Decreases Risk of Work Stoppage
| Specification | | PrintDownload PDF |
| --- | --- | --- |
| Year of Construction | | 2009 |
| Country of Fabrication | | United Kingdom |
| Type of Planer | | CAT PM102 |
| Engine | | C7 |
| Dimensions | Length | 10.70m |
| | Width | 1.98m |
| Maximum Height | | 3.40m |
| Minimum Height | | 2.38m |
| Inside Turning Radius | | 3.45m |
| Weight | | 17.6t |
| Total Installed Power | | 225hp |
| Cutting Width | | 1.00m |
| Cutting Depth | | 0.305m |
| Rotor | | 97 Carbide Tipped Tools |
| Propulsion System | | Hydrostatic Drive |
| Operating Speed | | 27m per minute |
| Travel Speed | | 2.5 mph/ 4.1km/h |
| Conveyor Width | | 0.55m |
| Conveyor Length | | 6.30m |
| Conveyor Speed | | 252m per minute |
| Conveyor Swing Angle | | 41 Degrees |