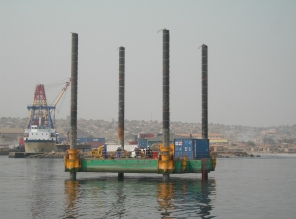 Self-Elevating Jack-up Platforms
"Caponta II"
Caponta II is a self elevating Jack-up platform. A Jack-up platform is a floating barge fitted with long support legs that can be raised or lowered. The Jack-up is maneuvered (self-propelled or by towing) into location with its legs up and the hull floating on the water. Upon arrival at the work location, the legs are jacked down onto the seafloor. Then "preloading" takes place, where the weight of the barge and additional ballast water are used to drive the legs securely into the seabottom so they will not penetrate further while operations are carried out.
After preloading, the jacking system is used to raise the entire barge above the water to a predetermined height or "air gap", so that wave, tidal and current loading acts only on the relatively slender legs and not on the barge hull.
| Specification | | PrintDownload PDF |
| --- | --- | --- |
| Year of Construction | | 2008 |
| Type of Booster Station | | Self-Elevating Jack-Up Platform |
| Dimensions | Length | 15.25m |
| | Width | 12.20m |
| | Molded Depth | 1.52m |
| Spuds | Length | 27.00m |
| | Maximum Operational Water Depth | 20.00m |
| | Diameter | 914mm |
| Payload | | 30t |
| Maximum Deckload | | 2t/m2 |
| Moonpools | | 1.53 x 3.05m dia |
| Propulsion | | None |
| Jacking System | | 1 x Hydraulic Set |
| Electricity | | Diesel Generator 13 kVA |
| Accommodation | | Containerised Office / WC |